StochasticOf_Montage.efs
File Name: StochasticOf_Montage.efs
Description:
Plots the Stochastics of a collection of eSignal Basic Studies.
Formula Parameters:
Montage Source - Standard

[Options]
Open
High
Low
Close
HL/2
HLC/3
OHLC/4
Standard
AccDistStudy.ACCDIST
ADXDMStudy.PDI
ADXDMStudy.NDI
ADXDMStudy.ADX
ATRStudy.ATR
BollingerStudy.BASIS
CCIStudy.CCI
ChopStudy.CHOP
DonchianStudy.BASIS
DonchianStudy.LOWER
DonchianStudy.UPPER
EnvelopeStudy.BASIS
EnvelopeStudy.LOWER
EnvelopeStudy.UPPER
MAStudy.SIMPLE
MAStudy.EXPONENTIAL
MAStudy.WEIGHTED
MAStudy.VOLUMEWEIGHTED
MACDStudy.FAST
MACDStudy.SLOW
MACDStudy.MACD
MoneyFlowStudy.MONEYFLOW
MOMStudy.MOM
OBVStudy.OBV
OscStudy.OSC
PercentRStudy.PERCENTR
ROCStudy.ROC
RSIStudy.RSI
StochStudy.FAST

Montage Length K - 14
Montage Smooth K - 1
Montage Length D - 3
Montage MA Type - Simple [Simple, Exponential]
Montage Upper Band - 80
Montage Lower Band - 20
Montage Bands' Color - Color.black
Montage %K Color - Color.blue
Montage %D Color - Color.red
Montage %K Thickness - 1
Montage %D Thickness - 1
- 17 The last five parameters are changed dynamically based on the Basic Study selected from the Montage Source parameter. If the name of any of these parameters is "NA" then no input is required for that parameter.
Notes:
Version 1.0 7/20/2004

This formula is designed to calculate stochastics based on the user-defined source selected from the "Montage Source" parameter via Edit Studies. The default, Standard, uses the traditional highest high, lowest low and close similar to the built-in Stochastics study.

Instructions - After selecting a new source for the Montage Source parameter, select "OK" and close the Edit Studies window. Then go back into Edit Studies to view the required parameters for the selected source, if they apply.
Download File:
StochasticOf_Montage.efs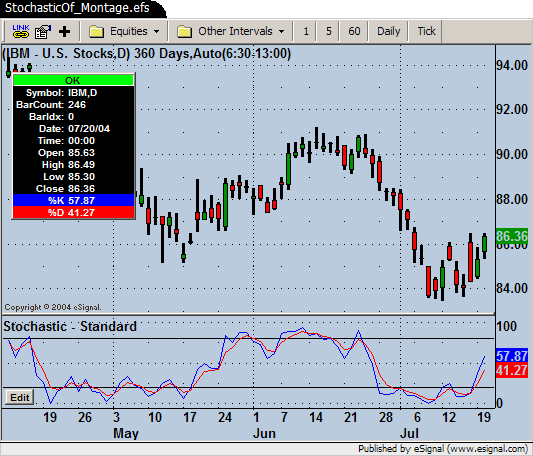 EFS Code:
/*********************************************************
Provided By : eSignal © July 2004                         
Special contributions from Alexis C. Montenegro


Version 1.0  7/20/2004

Notes:
This formula is designed to calculate stochastics based on
the user-defined source selected from the "Montage Source"
parameter via Edit Studies.  The default, Standard, uses the
traditional highes high, lowest low and close similar to the
built-in Stochastics study.

!!!!!!!!!!! After selecting a new source for the Montage Source
parameter, select "OK" and close the Edit Studies window. Then 
go back into Edit Studies to view the required parameters for 
the selected source, if they apply. !!!!!!!!!!!!!!!!!!!!!!!!!!!!

Formula Parameters:             Defaults:
1.  Montage Source              Standard
     [Options]
     Open
     High
     Low
     Close
     HL/2
	 HLC/3
	 OHLC/4
	 Standard
	 AccDistStudy.ACCDIST
	 ADXDMStudy.PDI
	 ADXDMStudy.NDI
	 ADXDMStudy.ADX
	 ATRStudy.ATR
	 BollingerStudy.BASIS
	 CCIStudy.CCI
	 ChopStudy.CHOP
	 DonchianStudy.BASIS
	 DonchianStudy.LOWER
	 DonchianStudy.UPPER
	 EnvelopeStudy.BASIS
	 EnvelopeStudy.LOWER
	 EnvelopeStudy.UPPER
	 MAStudy.SIMPLE
	 MAStudy.EXPONENTIAL
	 MAStudy.WEIGHTED
	 MAStudy.VOLUMEWEIGHTED
	 MACDStudy.FAST
	 MACDStudy.SLOW
	 MACDStudy.MACD
	 MoneyFlowStudy.MONEYFLOW
	 MOMStudy.MOM
	 OBVStudy.OBV
	 OscStudy.OSC
	 PercentRStudy.PERCENTR
	 ROCStudy.ROC
	 RSIStudy.RSI
	 StochStudy.FAST
2.  Montage Length K            14 
3.  Montage Smooth K            1 
4.  Montage Length D            3 
5.  Montage MA Type             Simple
6.  Montage Upper Band          80
7.  Montage Lower Band          20
8.  Montage Bands' Color        Color.black
9.  Montage %K Color            Color.blue
10. Montage %D Color            Color.red
11. Montage %K Thickness        1
12. Montage %D Thickness        1

13-17
The last five parameters are changed dynamically based on the
Basic Study selected from the Montage Source parameter.  If
the name of any of these parameters is "NA" then no input is 
required for that parameter.

**********************************************************/

var xMA  = null;
var vBasicStudy = null;
var xMA1 = null;
var xMA2 = null;
var xMA3 = null;

function preMain() {
    setStudyTitle("Stochastic Montage");
    setShowTitleParameters(false);
    setCursorLabelName("%K", 0);
    setCursorLabelName("%D", 1);
    setDefaultBarFgColor(Color.blue, 0);
    setDefaultBarFgColor(Color.red, 1);
    setDefaultBarThickness(1, 0);
    setDefaultBarThickness(1, 1);
    setStudyMax(105);
    setStudyMin(-5);
    
    var fp1 = new FunctionParameter("Source", FunctionParameter.STRING);
    fp1.setName("Montage Source");
	fp1.addOption("Open");
    fp1.addOption("High");
    fp1.addOption("Low");
    fp1.addOption("Close");
    fp1.addOption("HL/2");
	fp1.addOption("HLC/3");
	fp1.addOption("OHLC/4");
	fp1.addOption("Standard");
	fp1.addOption("AccDistStudy.ACCDIST");
	fp1.addOption("ADXDMStudy.PDI");
	fp1.addOption("ADXDMStudy.NDI");
	fp1.addOption("ADXDMStudy.ADX");
	fp1.addOption("ATRStudy.ATR");
	fp1.addOption("BollingerStudy.BASIS");
	fp1.addOption("CCIStudy.CCI");
	fp1.addOption("ChopStudy.CHOP");
	fp1.addOption("DonchianStudy.BASIS");
	fp1.addOption("DonchianStudy.LOWER");
	fp1.addOption("DonchianStudy.UPPER");
	fp1.addOption("EnvelopeStudy.BASIS");
	fp1.addOption("EnvelopeStudy.LOWER");
	fp1.addOption("EnvelopeStudy.UPPER");
	fp1.addOption("MAStudy.SIMPLE");
	fp1.addOption("MAStudy.EXPONENTIAL");
	fp1.addOption("MAStudy.WEIGHTED");
	fp1.addOption("MAStudy.VOLUMEWEIGHTED");
	fp1.addOption("MACDStudy.FAST");
	fp1.addOption("MACDStudy.SLOW");
	fp1.addOption("MACDStudy.MACD");
	fp1.addOption("MoneyFlowStudy.MONEYFLOW");
	fp1.addOption("MOMStudy.MOM");
	fp1.addOption("OBVStudy.OBV");
	fp1.addOption("OscStudy.OSC");
	fp1.addOption("PercentRStudy.PERCENTR");
	fp1.addOption("ROCStudy.ROC");
	fp1.addOption("RSIStudy.RSI");
	fp1.addOption("StochStudy.FAST");
	fp1.setDefault("Standard");
    
    var fp4 = new FunctionParameter("LengthK", FunctionParameter.NUMBER);
    fp4.setName("Montage Length K");
	fp4.setLowerLimit(1);	
	fp4.setDefault(14); 
	
	var fp5 = new FunctionParameter("SmoothK", FunctionParameter.NUMBER);
    fp5.setName("Montage Smooth K");
	fp5.setLowerLimit(1);	
	fp5.setDefault(1); 
	
	var fp6 = new FunctionParameter("LengthD", FunctionParameter.NUMBER);
    fp6.setName("Montage Length D");
	fp6.setLowerLimit(1);	
	fp6.setDefault(3); 
	
	var fp7 = new FunctionParameter("MAType", FunctionParameter.STRING);
    fp7.setName("Montage MA Type");
	fp7.addOption("Exponential");
    fp7.addOption("Simple");
	fp7.setDefault("Simple"); 
	
	var fp8 = new FunctionParameter("Upper", FunctionParameter.NUMBER);
    fp8.setName("Montage Upper Band");
	fp8.setLowerLimit(0);	
	fp8.setDefault(80); 
	
	var fp9 = new FunctionParameter("Lower", FunctionParameter.NUMBER);
    fp9.setName("Montage Lower Band");
	fp9.setLowerLimit(0);	
	fp9.setDefault(20); 
    
    var fp10 = new FunctionParameter("cBands", FunctionParameter.COLOR);
    fp10.setName("Montage Bands' Color");
    fp10.setDefault(Color.black);

    var fp11 = new FunctionParameter("cK", FunctionParameter.COLOR);
    fp11.setName("Montage \%K Color");
    fp11.setDefault(Color.blue);

    var fp12 = new FunctionParameter("cD", FunctionParameter.COLOR);
    fp12.setName("Montage \%D Color");
    fp12.setDefault(Color.red);

    var fp13 = new FunctionParameter("nK", FunctionParameter.NUMBER);
    fp13.setName("Montage \%K Thickness");
    fp13.setLowerLimit(1);
    fp13.setDefault(1);

    var fp14 = new FunctionParameter("nD", FunctionParameter.NUMBER);
    fp14.setName("Montage \%D Thickness");
    fp14.setLowerLimit(1);
    fp14.setDefault(1);

    fp15 = new FunctionParameter("nNum1", FunctionParameter.NUMBER);
    fp15.setName("Study Number Parameter1");
    fp15.setDefault(5);

    fp16 = new FunctionParameter("nNum2", FunctionParameter.NUMBER);
    fp16.setName("Study Number Parameter2");
    fp16.setDefault(10);

    fp17 = new FunctionParameter("nNum3", FunctionParameter.NUMBER);
    fp17.setName("Study Number Parameter3");
    fp17.setDefault(1);

    fp18 = new FunctionParameter("sString1", FunctionParameter.STRING);
    fp18.setName("Study Price Source");
	fp18.addOption("Open");
    fp18.addOption("High");
    fp18.addOption("Low");
    fp18.addOption("Close");
    fp18.addOption("HL/2");
	fp18.addOption("HLC/3");
	fp18.addOption("OHLC/4");
	fp18.setDefault("Close");

    fp19 = new FunctionParameter("sString2", FunctionParameter.STRING);
    fp19.setName("Study Boolean Parameter");
	fp19.addOption("true");
    fp19.addOption("false");
	fp19.setDefault("false");
}

var aSource = null;
var aHiVal = null;
var aLoVal = null;
var vEMA = null;
var vEMA1 = null;
var dPercent = 0.0;
var bPrimed = false;    
var aValue = null;
var bEdit = true; 

function main(Source, LengthK, SmoothK, LengthD, MAType, Upper, Lower, cBands, 
              cK, cD, nK, nD, nNum1, nNum2, nNum3, sString1, sString2) {

    if (bEdit == true) {
        drawTextPixel(5, 5, " Edit @URL=EFS:editStudies", null, null, 
            Text.RELATIVETOLEFT|Text.RELATIVETOBOTTOM|Text.BOLD|Text.CENTER|Text.BUTTON,
            null, 10, "Edit");
        for (var i = 15; i < 20; i++) {
            eval("fp" + i + ".setName('NA')");
        }
        if(Source=="Standard") {
            setStudyTitle("Stochastic - Standard");
            if(xMA1 == null) xMA1 = new MAStudy(1,0,"Close",MAStudy.SIMPLE);
            if(xMA2 == null) xMA2 = new MAStudy(1,0,"High",MAStudy.SIMPLE);
            if(xMA3 == null) xMA3 = new MAStudy(1,0,"Low",MAStudy.SIMPLE);
        } else {    
            if(Source=="Open"||Source=="High"||Source=="Low"||Source=="Close"||Source=="HL/2"||Source=="HLC/3"||Source=="OHLC/4"){
                setStudyTitle("Stochastic of - " + Source);
                if(xMA == null) xMA = new MAStudy(1,0,Source,MAStudy.SIMPLE);
                if(xMA1 == null) xMA1 = new MAStudy(1,0,xMA,MAStudy.MA,MAStudy.SIMPLE);
            } else switch (Source) {
                case "AccDistStudy.ACCDIST" :
                    setStudyTitle("Stochastic of - AccDist");
                    if(vBasicStudy == null) vBasicStudy = new AccDistStudy();
                    if(xMA1 == null) xMA1 = new MAStudy(1,0,vBasicStudy,eval(Source),MAStudy.SIMPLE);
                    break;	 
                case "ADXDMStudy.PDI" :
                    setStudyTitle("Stochastic of - ADXDM.PDI");
                    fp15.setName("DI Length");
                    fp16.setName("ADX Length");
                    if(vBasicStudy == null) vBasicStudy = new ADXDMStudy(nNum1, nNum2);
                    if(xMA1 == null) xMA1 = new MAStudy(1,0,vBasicStudy,eval(Source),MAStudy.SIMPLE);
                    break;
                case "ADXDMStudy.NDI" :
                    setStudyTitle("Stochastic of - ADXDM.NDI");
                    fp15.setName("DI Length");
                    fp16.setName("ADX Length");
                    if(vBasicStudy == null) vBasicStudy = new ADXDMStudy(nNum1, nNum2);
                    if(xMA1 == null) xMA1 = new MAStudy(1,0,vBasicStudy,eval(Source),MAStudy.SIMPLE);
                    break;	 
                case "ADXDMStudy.ADX" :
                    setStudyTitle("Stochastic of - ADXDM.ADX");
                    fp15.setName("DI Length");
                    fp16.setName("ADX Length");
                    if(vBasicStudy == null) vBasicStudy = new ADXDMStudy(nNum1, nNum2);
                    if(xMA1 == null) xMA1 = new MAStudy(1,0,vBasicStudy,eval(Source),MAStudy.SIMPLE);
                    break;
                case "ATRStudy.ATR" :
                    setStudyTitle("Stochastic of - ATR");
                    fp15.setName("ATR Length");
                    if(vBasicStudy == null) vBasicStudy = new ATRStudy(nNum1);
                    if(xMA1 == null) xMA1 = new MAStudy(1,0,vBasicStudy,eval(Source),MAStudy.SIMPLE);
                    break;
                case "BollingerStudy.BASIS" :
                    setStudyTitle("Stochastic of - Bollinger.BASIS");
                    fp15.setName("Bollinger Length");
                    fp16.setName("Bollinger Standard Deviation");
                    fp18.setName("Bollinger Price Source");
                    if(vBasicStudy == null) vBasicStudy = new BollingerStudy(nNum1, sString1, nNum2);
                    if(xMA1 == null) xMA1 = new MAStudy(1,0,vBasicStudy,eval(Source),MAStudy.SIMPLE);
                    break;
                case "CCIStudy.CCI" :
                    setStudyTitle("Stochastic of - CCI");
                    fp15.setName("CCI Length");
                    fp18.setName("CCI Price Source");
                    if(vBasicStudy == null) vBasicStudy = new CCIStudy(nNum1, sString1);
                    if(xMA1 == null) xMA1 = new MAStudy(1,0,vBasicStudy,eval(Source),MAStudy.SIMPLE);
                    break;
                case "ChopStudy.CHOP" :
                    setStudyTitle("Stochastic of - Chop");
                    fp15.setName("Chop Length");
                    if(vBasicStudy == null) vBasicStudy = new ChopStudy(nNum1);
                    if(xMA1 == null) xMA1 = new MAStudy(1,0,vBasicStudy,eval(Source),MAStudy.SIMPLE);
                    break;
                case "DonchianStudy.BASIS" :
                    setStudyTitle("Stochastic of - Dochian.BASIS");
                    fp15.setName("Donchian Length");
                    fp16.setName("Donchian Offset");
                    if (nNum2 > 0) nNum2 = 0;
                    if(vBasicStudy == null) vBasicStudy = new DonchianStudy(nNum1, nNum2);
                    if(xMA1 == null) xMA1 = new MAStudy(1,0,vBasicStudy,eval(Source),MAStudy.SIMPLE);
                    break;
                case "DonchianStudy.LOWER" :
                    setStudyTitle("Stochastic of - Dochian.LOWER");
                    fp15.setName("Donchian Length");
                    fp16.setName("Donchian Offset");
                    if (nNum2 > 0) nNum2 = 0;
                    if(vBasicStudy == null) vBasicStudy = new DonchianStudy(nNum1, nNum2);
                    if(xMA1 == null) xMA1 = new MAStudy(1,0,vBasicStudy,eval(Source),MAStudy.SIMPLE);
                    break;
                case "DonchianStudy.UPPER" :
                    setStudyTitle("Stochastic of - Dochian.UPPER");
                    fp15.setName("Donchian Length");
                    fp16.setName("Donchian Offset");
                    if (nNum2 > 0) nNum2 = 0;
                    if(vBasicStudy == null) vBasicStudy = new DonchianStudy(nNum1, nNum2);
                    if(xMA1 == null) xMA1 = new MAStudy(1,0,vBasicStudy,eval(Source),MAStudy.SIMPLE);
                    break;
                case "EnvelopeStudy.BASIS" :
                    setStudyTitle("Stochastic of - Envelope.BASIS");
                    fp15.setName("Envelope Length");
                    fp16.setName("Envelope Offset");
                    fp17.setName("Envelope Percent");
                    fp18.setName("Envelope Price Source");
                    fp19.setName("Envelope Exponential");
                    if (nNum2 > 0) nNum2 = 0;
                    if(vBasicStudy == null) {
                        vBasicStudy = new EnvelopeStudy(nNum1, nNum2, sString1, eval(sString2), nNum3);
                    }
                    if(xMA1 == null) xMA1 = new MAStudy(1,0,vBasicStudy,eval(Source),MAStudy.SIMPLE);
                    break;	 
                case "EnvelopeStudy.LOWER" :
                    setStudyTitle("Stochastic of - Envelope.LOWER");
                    fp15.setName("Envelope Length");
                    fp16.setName("Envelope Offset");
                    fp17.setName("Envelope Percent");
                    fp18.setName("Envelope Price Source");
                    fp19.setName("Envelope Exponential");
                    if (nNum2 > 0) nNum2 = 0;
                    if(vBasicStudy == null) {
                        vBasicStudy = new EnvelopeStudy(nNum1, nNum2, sString1, eval(sString2), nNum3);
                    }
                    if(xMA1 == null) xMA1 = new MAStudy(1,0,vBasicStudy,eval(Source),MAStudy.SIMPLE);
                    break;
                case "EnvelopeStudy.UPPER" :
                    setStudyTitle("Stochastic of - Envelope.UPPER");
                    fp15.setName("Envelope Length");
                    fp16.setName("Envelope Offset");
                    fp17.setName("Envelope Percent");
                    fp18.setName("Envelope Price Source");
                    fp19.setName("Envelope Exponential");
                    if (nNum2 > 0) nNum2 = 0;
                    if(vBasicStudy == null) {
                        vBasicStudy = new EnvelopeStudy(nNum1, nNum2, sString1, eval(sString2), nNum3);
                    }
                    if(xMA1 == null) xMA1 = new MAStudy(1,0,vBasicStudy,eval(Source),MAStudy.SIMPLE);
                    break;	 
                case "MAStudy.SIMPLE" :
                    setStudyTitle("Stochastic of - MA.SIMPLE");
                    fp15.setName("MA Length");
                    fp16.setName("MA Offset");
                    fp18.setName("MA Price Source");
                    if (nNum2 > 0) nNum2 = 0;
                    if(vBasicStudy == null) {
                        vBasicStudy = new MAStudy(nNum1, nNum2, sString1, MAStudy.SIMPLE);
                    }
                    if(xMA1 == null) xMA1 = new MAStudy(1,0,vBasicStudy,MAStudy.MA,MAStudy.SIMPLE);
                    break;
                case "MAStudy.EXPONENTIAL" :
                    setStudyTitle("Stochastic of - MA.EXPONENTIAL");
                    fp15.setName("MA Length");
                    fp16.setName("MA Offset");
                    fp18.setName("MA Price Source");
                    if (nNum2 > 0) nNum2 = 0;
                    if(vBasicStudy == null) {
                        vBasicStudy = new MAStudy(nNum1, nNum2, sString1, MAStudy.EXPONENTIAL);
                    }
                    if(xMA1 == null) xMA1 = new MAStudy(1,0,vBasicStudy,MAStudy.MA,MAStudy.SIMPLE);
                    break;
                case "MAStudy.WEIGHTED" :
                    setStudyTitle("Stochastic of - MA.WEIGHTED");
                    fp15.setName("MA Length");
                    fp16.setName("MA Offset");
                    fp18.setName("MA Price Source");
                    if (nNum2 > 0) nNum2 = 0;
                    if(vBasicStudy == null) {
                        vBasicStudy = new MAStudy(nNum1, nNum2, sString1, MAStudy.WEIGHTED);
                    }
                    if(xMA1 == null) xMA1 = new MAStudy(1,0,vBasicStudy,MAStudy.MA,MAStudy.SIMPLE);
                    break;
                case "MAStudy.VOLUMEWEIGHTED" :
                    setStudyTitle("Stochastic of - MA.VOLUMEWEIGHTED");
                    fp15.setName("MA Length");
                    fp16.setName("MA Offset");
                    fp18.setName("MA Price Source");
                    if (nNum2 > 0) nNum2 = 0;
                    if(vBasicStudy == null) {
                        vBasicStudy = new MAStudy(nNum1, nNum2, sString1, MAStudy.VOLUMEWEIGHTED);
                    }
                    if(xMA1 == null) xMA1 = new MAStudy(1,0,vBasicStudy,MAStudy.MA,MAStudy.SIMPLE);
                    break;
                case "MACDStudy.FAST" :
                    setStudyTitle("Stochastic of - MACD.FAST");
                    fp15.setName("MACD Fast Length");
                    fp16.setName("MACD Slow Length");
                    fp17.setName("MACD Signal Smoothing");
                    fp18.setName("MACD Price Source");
                    fp19.setName("MACD Simple MA");
                    if(vBasicStudy == null) vBasicStudy = new MACDStudy(nNum1, nNum2, nNum3, sString1, eval(sString2));
                    if(xMA1 == null) xMA1 = new MAStudy(1,0,vBasicStudy,eval(Source),MAStudy.SIMPLE);
                    break;                   
                case "MACDStudy.SLOW" :
                    setStudyTitle("Stochastic of - MACD.SLOW");
                    fp15.setName("MACD Fast Length");
                    fp16.setName("MACD Slow Length");
                    fp17.setName("MACD Signal Smoothing");
                    fp18.setName("MACD Price Source");
                    fp19.setName("MACD Simple MA");
                    if(vBasicStudy == null) vBasicStudy = new MACDStudy(nNum1, nNum2, nNum3, sString1, eval(sString2));
                    if(xMA1 == null) xMA1 = new MAStudy(1,0,vBasicStudy,eval(Source),MAStudy.SIMPLE);
                    break;                   
                case "MACDStudy.MACD" :
                    setStudyTitle("Stochastic of - MACD.MACD");
                    fp15.setName("MACD Fast Length");
                    fp16.setName("MACD Slow Length");
                    fp17.setName("MACD Signal Smoothing");
                    fp18.setName("MACD Price Source");
                    fp19.setName("MACD Simple MA");
                    if(vBasicStudy == null) vBasicStudy = new MACDStudy(nNum1, nNum2, nNum3, sString1, eval(sString2));
                    if(xMA1 == null) xMA1 = new MAStudy(1,0,vBasicStudy,eval(Source),MAStudy.SIMPLE);
                    break;                   
                case "MoneyFlowStudy.MONEYFLOW" :
                    setStudyTitle("Stochastic of - MoneyFlow");
                    fp15.setName("Money Flow Length");
                    if(vBasicStudy == null) vBasicStudy = new MoneyFlowStudy(nNum1);
                    if(xMA1 == null) xMA1 = new MAStudy(1,0,vBasicStudy,eval(Source),MAStudy.SIMPLE);
                    break;                   
                case "MOMStudy.MOM" :
                    setStudyTitle("Stochastic of - MOM");
                    fp15.setName("MOM Length");
                    fp18.setName("MOM Price Source");
                    if(vBasicStudy == null) vBasicStudy = new MOMStudy(nNum1, sString1);
                    if(xMA1 == null) xMA1 = new MAStudy(1,0,vBasicStudy,eval(Source),MAStudy.SIMPLE);
                    break;                   
                case "OBVStudy.OBV" :
                    setStudyTitle("Stochastic of - OBV");
                    if(vBasicStudy == null) vBasicStudy = new OBVStudy();
                    if(xMA1 == null) xMA1 = new MAStudy(1,0,vBasicStudy,eval(Source),MAStudy.SIMPLE);
                    break;                   
                case "OscStudy.OSC" :
                    setStudyTitle("Stochastic of - OSC");
                    fp15.setName("OSC Fast Length");
                    fp16.setName("OSC Slow Length");
                    fp18.setName("OSC Price Source");
                    fp19.setName("OSC Exponential");
                    if(vBasicStudy == null) vBasicStudy = new OscStudy(nNum1, nNum2, sString1, eval(sString2));
                    if(xMA1 == null) xMA1 = new MAStudy(1,0,vBasicStudy,eval(Source),MAStudy.SIMPLE);
                    break;
                case "PercentRStudy.PERCENTR" :
                    setStudyTitle("Stochastic of - PercentR");
                    fp15.setName("PercentR Length");
                    if(vBasicStudy == null) vBasicStudy = new PercentRStudy(nNum1);
                    if(xMA1 == null) xMA1 = new MAStudy(1,0,vBasicStudy,eval(Source),MAStudy.SIMPLE);
                    break;                   
                case "RSIStudy.RSI" :
                    setStudyTitle("Stochastic of - RSI");
                    fp15.setName("RSI Length");
                    fp18.setName("RSI Price Source");
                    if(vBasicStudy == null) vBasicStudy = new RSIStudy(nNum1, sString1);
                    if(xMA1 == null) xMA1 = new MAStudy(1,0,vBasicStudy,eval(Source),MAStudy.SIMPLE);
                    break;                   
                case "ROCStudy.ROC" :
                    setStudyTitle("Stochastic of - ROC");
                    fp15.setName("ROC Length");
                    fp18.setName("ROC Price Source");
                    if(vBasicStudy == null) vBasicStudy = new ROCStudy(nNum1, sString1);
                    if(xMA1 == null) xMA1 = new MAStudy(1,0,vBasicStudy,eval(Source),MAStudy.SIMPLE);
                    break;
                case "StochStudy.FAST" :
                    setStudyTitle("Stochastic of - Stoch.FAST");
                    fp15.setName("Stoch \%K Length");
                    fp16.setName("Stoch \%K Smoothing");
                    fp17.setName("Stoch \%D Length");
                    if(vBasicStudy == null) vBasicStudy = new StochStudy(nNum1, nNum2, nNum3);
                    if(xMA1 == null) xMA1 = new MAStudy(1,0,vBasicStudy,eval(Source),MAStudy.SIMPLE);
                    break;                    
            }
        }
        
        // Study formatting
        addBand( Upper, PS_SOLID, 1, eval(cBands), 2);
        addBand( Lower, PS_SOLID, 1, eval(cBands), 3);
        setDefaultBarFgColor(cK, 0);
        setDefaultBarFgColor(cD, 1);
        setDefaultBarThickness(nK, 0);
        setDefaultBarThickness(nD, 1);
        
        bEdit = false;
    }

    if (Source=="Standard") {
        vMA1 = xMA1.getValue(MAStudy.MA);
        vMA2 = xMA2.getValue(MAStudy.MA);
        vMA3 = xMA3.getValue(MAStudy.MA);
    } else {
        vMA1 = xMA1.getValue(MAStudy.MA);
        vMA2 = xMA1.getValue(MAStudy.MA);
        vMA3 = xMA1.getValue(MAStudy.MA);
    }

    if(vMA1==null||vMA2==null||vMA3==null) return;
    
    if(aSource == null) aSource = new Array(LengthK+SmoothK);
    if(aHiVal == null) aHiVal = new Array(LengthK+SmoothK);
    if(aLoVal == null) aLoVal = new Array(LengthK+SmoothK);
    
    if(getBarState()==BARSTATE_NEWBAR){
        aSource.pop();
        aHiVal.pop();
        aLoVal.pop();
        aSource.unshift(vMA1);
        aHiVal.unshift(vMA2);
        aLoVal.unshift(vMA3)
    }else{
        aSource[0] = vMA1;
        aHiVal[0] = vMA2;
        aLoVal[0] = vMA3;
    }    

    var Offset;
    var cc = 0;
    var hh = 0;
    var ll = 0;
    var percentK;
    var sum = 0;    
    
    if (aHiVal[(LengthK+SmoothK)-1] == null) return;
    if (aLoVal[(LengthK+SmoothK)-1] == null) return;

    var i;
    for(i = 0; i < SmoothK; i++) {
        Offset = i;
        
        cc = aSource[Offset];
        
        // The portion of the array to get stochK is from Offset to LengthK+Offset.
        var vValueH = aHiVal.slice(Offset,LengthK+Offset);
        if(vValueH == null) return ;
        
        var vValueL = aLoVal.slice(Offset,LengthK+Offset);
        if(vValueL == null) return ;
            
        var j;
        for(j = 0; j < LengthK; j++) {
            if(j == 0) {
                hh = vValueH[j];
                ll = vValueL[j];
            } else {
                hh = Math.max(hh, vValueH[j]);
                ll = Math.min(ll, vValueL[j]);
            }
        }
        
        percentK = ((cc - ll) / (hh - ll)) * 100;
        
        sum += percentK;
    }

    sum /= SmoothK;
       
    var vPlot = sum;
    
    if (aValue == null) {
        aValue = new Array(LengthD);
    }
    if (getBarState() == BARSTATE_NEWBAR) {
        aValue.pop();  
        aValue.unshift(vPlot); 
    } else {
        aValue[0] = vPlot;
    }
    
    var k=0;
    var nSum = 0;
    for (k = 0; k < LengthD; ++k) {
        nSum += aValue[k];
    }
    
    var vSMA = nSum/LengthD;
    
    
    if(MAType=="Exponential"){
        if(aValue[LengthD-1] != null) vEMA = EMA(LengthD, aValue);  
        return new Array (sum,vEMA);
    }else{
        return new Array (sum,vSMA);
    }
    
}

function EMA(LengthD, aValue) {

    var dSum = 0.0;

    if(getBarState() == BARSTATE_ALLBARS || bPrimed == false) {
        dPercent = (2.0 / (LengthD + 1.0));
        bPrimed = false;
    }

    if (getBarState() == BARSTATE_NEWBAR) {
        vEMA1 = vEMA;
    }

    if(bPrimed == false) {
        for(var i = 0; i < LengthD; i++) {
            dSum += aValue[i];
        }
        bPrimed = true;
        return (dSum / LengthD);
    } else {
        return (((aValue[0] - vEMA1) * dPercent) + vEMA1);
    }
}

function editStudies() {
    askForInput("Stochastic Montage");
}